Robotic Process Automation Partnership
Blue Prism were looking to expand the AI capabilities accessible on their RPA platform. One of the areas that could benefit from expansion was the intelligent capture of POS receipt images, extracting the data into labelled and usable data fields. Whilst already having a large number of advanced document capture partners on their digital exchange, no specific POS receipt OCR technology was currently available.
Blue Prism's Technology Alliance Program (TAP) partnership with Tabscanner enables AI powered receipt OCR and data extraction to Blue Prism Robotic Process Automation (RPA) automating the data extraction from POS paper receipt images . This integration with Tabscanner adds the critical skill of visual perception to Blue Prism Intelligent Automation, giving enterprises the ability to make sense of the vast array of global POS receipt formats and their critical data fields within a Blue Prism Digital Worker's defined workflow.
Tabscanner Digital Exchange Asset
Enabling Digital Workers
The combination of Tabscanner's technology and Blue Prism's Digital Workforce lets enterprises take a much deeper dive into intelligent data extraction. Tabscanner turns POS paper receipt images into classified data, making it fully digitised. This data is delivered in the .Json format, handing it over to a Blue Prism digital worker for processing in accordance with enterprise goals and requirements.
The Blue Prism/Tabscanner integration gives enterprises easy access to "drag-and-drop" artificial intelligence for instant connection to Tabscanner's capture technology – all while building a digital worker's workflow within Blue Prism . Tabscanner's ability to digitize, classify, and then extract data – plus Blue Prism RPA – lets organizations easily automate the content intelligence process from end-to-end, and facilitate a deeper dive into the data extraction process. Tabscanner uses AI technologies to take in documents; parse, classify, and understand the formats of POS receipts; and then pass on specific enterprise-driven actions to Blue Prism Digital Workers.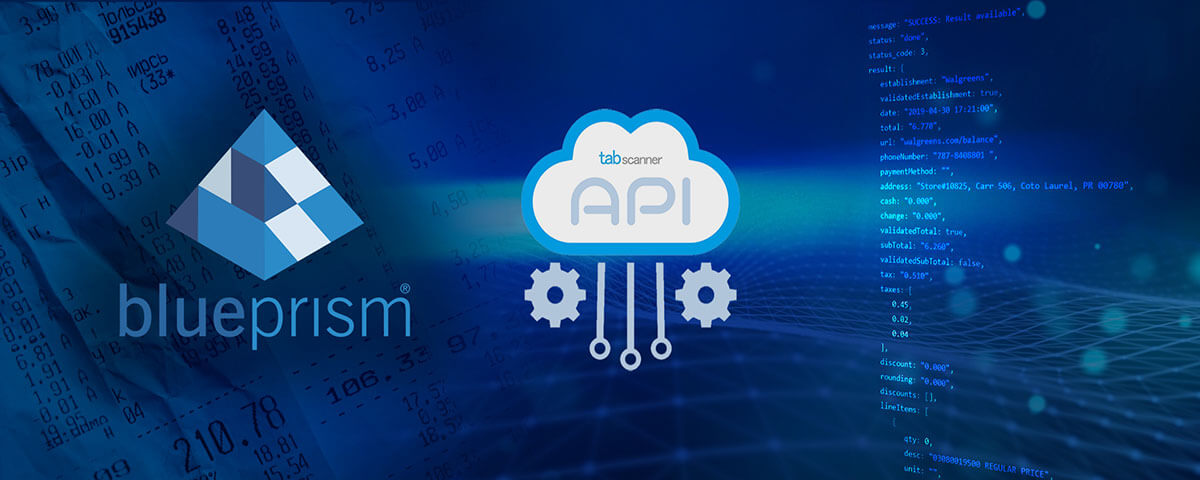 The Future Of Receipt RPA
Tabscanner's alliance with Blue Prism is sure to enable large enterprise applications powering automated expense management, auditing and tax solutions. The power of Blue Prism's RPA combined with Tabscanner's AI and data extraction will fuel future RPA and empower the digital workforce to free humans from repetitive data inputting and manual verification. Tabscanner is proud of the new alliance and looking ahead to a successful and valuable partnership.